Sinking Ship Entertainment
Jun 6, 2018
Dino Dana Stomps into Latin America with Nat Geo Kids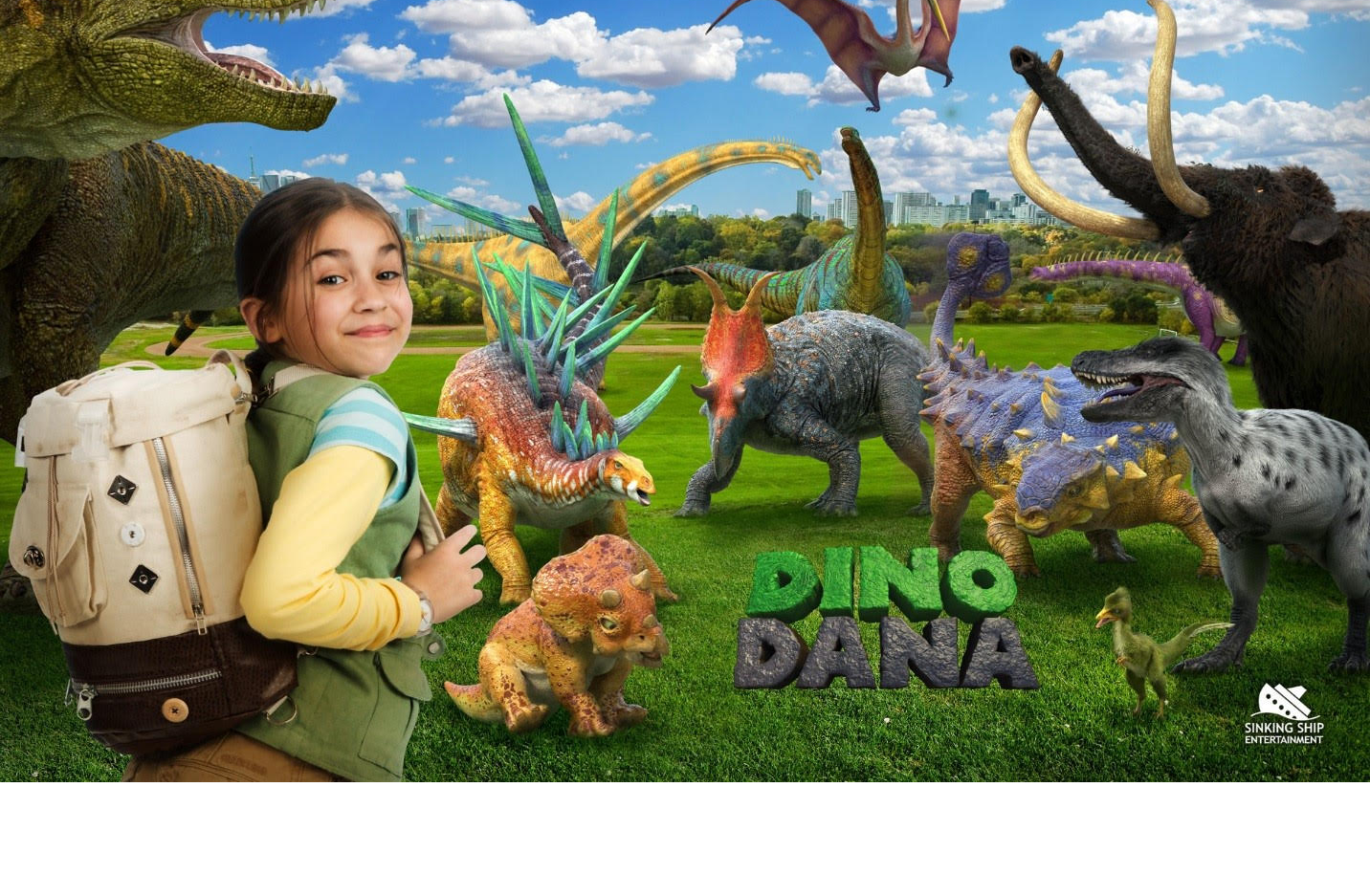 Toronto, June 6, 2018
Sinking Ship Entertainment has inked two new deals for its dinosaur adventure series DINO DANA with Nat Geo Kids in Latin America. Nat Geo Kids has picked up the Pay TV rights for Season I and II of the series, as well as the consumer product rights for the property in the territory of Latin America. Produced by Sinking Ship Entertainment in association with TVOKids, Amazon Prime and Yoopa, Dino Dana is a live-action/CGI series that follows the adventures of a feisty 10 year old paleontologist-in-training. The new agreements with Nat Geo Kids will see the speciality channel launch the program in September in 2018 in Latin America, as well as managing the brand's consumer product categories including publishing, apparel, home and furnishings, toys and board games across Latin America.
"We are thrilled to be partnering with Nat Geo Kids on this special show" says Kate Sanagan, Head of Sales and Distribution. "We think a children's dinosaur property is a perfect fit for Nat Geo Kids, and we are looking forward to working with them in Latin America to grow the brand."
"Imagination and explorations is part of our DNA in Nat Geo Kids and Dino Dana is a wonderful addition for us. This new content brings an integrative proposal that includes consumer products, but also the opportunity for kids to discover and get a closer look at these epic creatures in a wonderful way" says Carmen Larios, SVP content strategy of National Geographic Partners in Latin America.
The series recently won Kidscreen's 2018 Best New Series award and was nominated for three Daytime Emmys this year, including Outstanding Preschool Children's Series and Outstanding Performer in a Children's Program.
About Sinking Ship Entertainment
Sinking Ship Entertainment is a multiple Emmy® Award winning production, distribution and interactive company specializing in kids' live action CGI blended series. Since its launch in 2004, Sinking Ship has produced over 500 hours of content and sold to over 200 countries internationally. The company has rapidly earned a reputation for high quality, ground breaking original series and companion interactive experiences. In 2017 Playback Magazine named its STEM series Annedroids as Kids Series of the year. Overall the company has won 13 Daytime Emmy® Awards and a variety of other international awards including Canadian Screen Awards, Youth Media Alliance Awards, Fan Chile Awards, Parents Choice Awards, the Shaw Rocket Prize, and the Prix Jeunesse International. The Toronto-based company is home to over 125 shipmates and in addition to production operates a VFX and Interactive Studio.
About Nat Geo Kids
Nat Geo Kids is National Geographic Partners' multiplatform entertainment destination (TV & App) for 4- to 7-year-olds. Nat Geo Kids offers parents a safe destination with the backing of National Geographic, one of the most prestigious brands worldwide with a legacy of over 128 years that gathers together the best scientists, explorers, photographers and filmmakers to create stories that help change the world. In this sense, Nat Geo Kids' goal is to accompany children in their growth, knowing that a vocation and a passion for nature, adventure, creativity and science start in childhood. The brand offers more than 400 hours of entertainment with the best animated programming, including "Pablo", "Dot.", "The Wild Adventures of Blinky Bill," "Ready Jet Go!," "Chuck's Choice," "Javi y el club del árbol," and "Thomas Edison's Secret Lab," among others. The offering is completed with blockbuster movies such as "Madagascar," "Megamind," and "Dr. Seuss' The Lorax" that will soon be joined by original productions.