Sinking Ship Entertainment
May 28, 2019
Multiple Emmy Award-Winning Series ODD SQUAD Packs Its Bag for Licensing Expo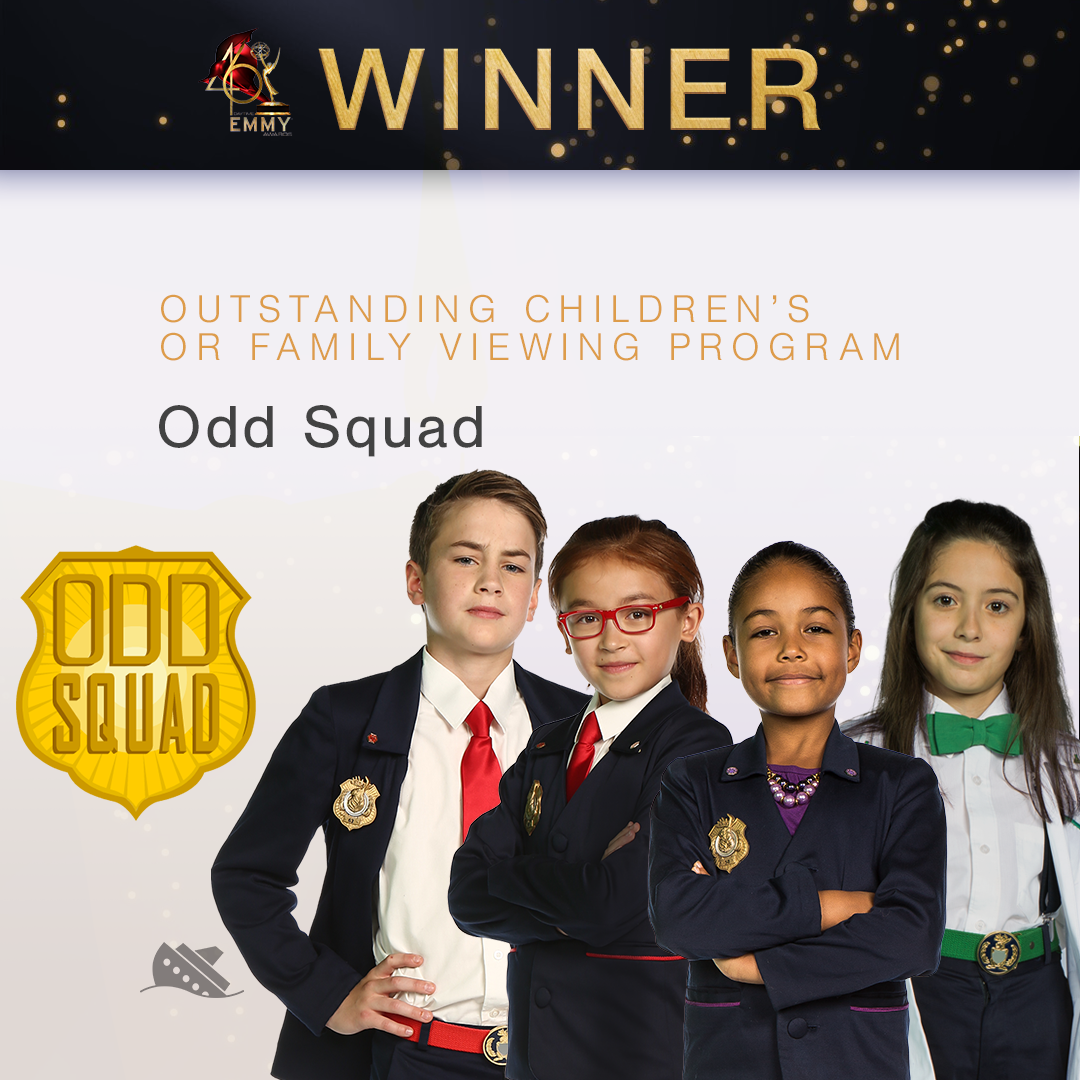 (TORONTO – Tuesday, May 28, 2019) - Canada's leading production, distribution and digital company Sinking Ship Entertainment (SSE) is looking to ODDify Licensing Expo this June. The company has been celebrating Odd Squad's newly minted Daytime Emmy win for Outstanding Children's Program. This year, the PBS Kids' math comedy series added three more wins to its overall Emmy count, bringing its total to 14. SSE also took home the award for Outstanding Performer in a Children's, Family Viewing or Special Class program for Michela Luci as Dino Dana.
Odd Squad's licensing program includes publishing partner Imprint, part of the Macmillan Children's Publishing Group. As previously announced, Imprint will publish the Odd Squad Agent's Handbook with the show's creators Tim McKeon and Adam Peltzman on board as authors. The handbook is currently scheduled for an early 2020 launch. Additional licensing partners include Smart Gurlz for electronic scooter toys, Trends for posters, and Fun.com for costumes. Odd Squad airs daily on PBS stations, the PBS KIDS 24/7 channel, streams on pbskids.org, the free PBS KIDS Video app, and on Amazon Prime.
SSE will also be at Expo with its brand-new family film DINO DANA: THE MOVIE. This film will be released theatrically in the spring of 2020 with an extended roll-out for museum and science center theaters planned to start June 2020. The film is based on SSE's popular dinosaur series Dino Dana that airs on Amazon Prime. The third season of the television series launches in late July 2019 to Amazon's over 101 million subscribers.
Sinking Ship will be taking meetings during Licensing Expo at the PBS Kids booth, D226
-30-
For further information:
Amanda Fruci, Head of Communications
416.533.5172 Ext. 2258
About Sinking Ship Entertainment
Sinking Ship Entertainment is an award-winning production, distribution and interactive company specializing in family and kids' live action and CGI blended content. In 2019 they set their sights on growth and launched a new animation series division. Since opening its doors in 2004, Sinking Ship has produced over 500 hours of content, and has sold to over 200 countries internationally through their globally recognized in-house distribution division. The company has rapidly earned a global reputation for high quality, groundbreaking original series and companion interactive experiences. Overall, Sinking Ship has won 17 Daytime Emmy® Awards and a variety of other international awards including Canadian Screen Awards, Youth Media Alliance Awards, Fan Chile Awards, Parents Choice Awards, the Shaw Rocket Prize, and the Prix Jeunesse International. In addition to production, Sinking Ship operates a cutting-edge VFX and Interactive Studio, creating multi-platform digital experiences and interactive content for audiences around the world. The Toronto-based company is home to over 175 shipmates.
Come Aboard and Join the Conversation:
Facebook: @sinkingshipentertainment @dinodantv @endlingstv
Instagram:@sinkingshipent @dinodanatv @endlingstv
Twitter: @SinkingShipEnt