Sinking Ship Entertainment
Apr 15, 2019
Sinking Ship Entertainment Inks Three Deals For Amazon Prime Series JUST ADD MAGIC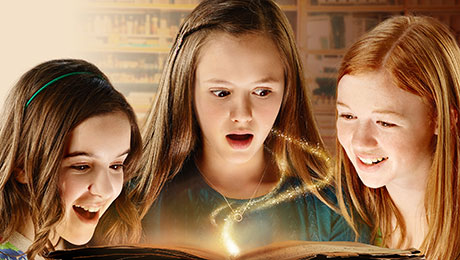 (Toronto, Canada- April 15, 2019) Sinking Ship Entertainment has picked up the Amazon kids' series Just Add Magic for international distribution, and has landed three broadcast deals in English and French Canada, and pan-Latin America. DHX and Yoopa in Canada and Discovery Kids Latin America will all begin rolling out the popular series this Spring and early Summer.
The Amazon-original live-action series is based on Cindy Callaghan's book of the same name, and follows the story of three best friends Kelly, Darbie and Hannah as they uncover a cookbook containing magical recipes. Aimed at kids 6 to 11 years old, Just Add Magic had proven its popularity and is the most streamed Amazon Original series for that age group. The series currently airs on Amazon Prime internationally.
"We are thrilled to add another high-quality series like Just Add Magic to our catalogue, joining other Amazon series like Annedroids and Dino Dana," says Kate Sanagan, Sinking Ship Head of Distribution for the Americas. "We look forward to introducing Kelly, Darbie and Hannah to DHX, Yoopa, and Discovery Kids fans, and to even more international TV buyers around the world."
Sinking Ship Entertainment has picked up the second window television rights for worldwide distribution. Currently 39 half hour episodes are available, with another 22 episodes available in early 2020.
-30-
For further information:
Amanda Fruci, Head of Communications
416.533.5172 Ext. 2258, amandafruci@sinkingship.ca
About Sinking Ship Entertainment
Sinking Ship Entertainment is an award-winning production, distribution and interactive company specializing in family and kids' live action CGI blended content. Since 2004, the company has rapidly earned a global reputation for high quality, ground breaking original series and companion interactive experiences. Overall the company has won 13 Daytime Emmy® Awards and a variety of other international awards including Canadian Screen Awards, Youth Media Alliance Awards, Fan Chile Awards, Parents Choice Awards, the Shaw Rocket Prize, and the Prix Jeunesse International. The Toronto-based company is home to over 150 shipmates. In addition to production, Sinking Ship operates a cutting edge VFX and Interactive Studio, creating multi-platform digital experiences and interactive content for audiences around the world.
About Prime Video Kids
In 2014, Amazon Studios began introducing Prime Original Kids series , kicking off with the Emmy award-winning series, Tumble Leaf, about a delightfully curious blue fox, and his best friend Stick, a quirky caterpillar, as they embark on a fun and nature-filled adventure. Today, customers can enjoy 20 Original Kids Series including Just Add Magic, Annedroids, Dino Dana, If You Give a Mouse a Cookie, The Dangerous Book for Boys and Emmy award-winning series Niko and the Sword of Lightand Lost in Oz. Two additional series Pete the Cat, based on the beloved book series, and global phenomenon Kung Fu Panda Village premiered this year.
The mission of Prime Original Kids series is to inspire lifelong creative learning in children beginning at the preschool age. The aim is to validate, maintain and foster young children's creative, joyful and curious learning spirit through offering core content that is integrated with skills children need now and for the future. This is accomplished by integrating a curriculum thread through all preschool shows including The Stinky & Dirty Show, Creative Galaxy and Wishenpoof and working with established creators and educational advisors to develop learning experiences that extend beyond the screen. All of this is to give parents confidence that these programs will provide valuable skills and life lessons that children can use in their real life—while being entertaining at the same time.
To date, Prime Original Kids series have won numerous awards including 19 Daytime Creative Arts Emmys, 3 Annie Awards, 36 Parents Choice Awards, 2 Humanitas and many more. Prime Video's growing line-up of award-winning and critically-acclaimed Originals for kids and families are available to stream and enjoy using the Amazon Prime Video app for compatible TVs, connected devices, including Amazon Fire TV and mobile devices, or online at Amazon.com/Prime-Video/Kids.