Sinking Ship Entertainment
Sep 24, 2019
Brazil's Gloob is Newest Partner on Sinking Ship Entertainment's Sci-Fi Adventure Series, Endlings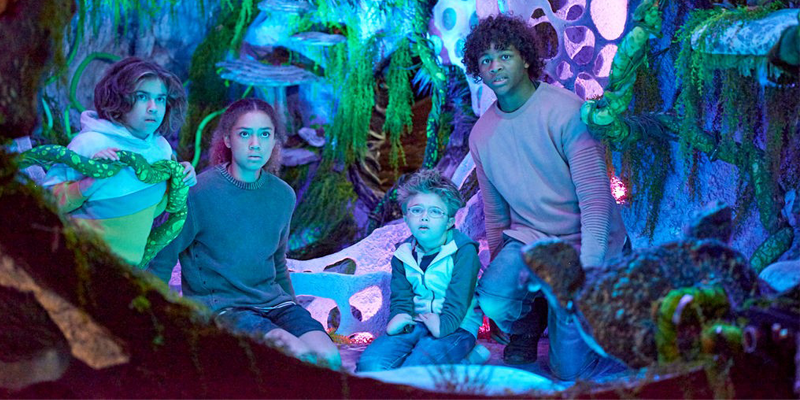 Gloob joins nine international broadcast partners on the upcoming series
(TORONTO, Canada- September 24, 2019) Sinking Ship Entertainment (SSE) has inked a deal with long-time partner Gloob for the upcoming sci-fi adventure series Endlings. Gloob has signed on for exclusive broadcast rights in Brazil for the first season of the new series. The show will launch in 2020.
"We have an amazing and long partnership with Sinking Ship that reinforces our common vision regarding Gloob's editorial line. We believe in the power of the stories they want to tell - and that's why we acquired Annedroids and Odd Squad, making them huge successes amongst Brazilian kids. We're pleased to join them in Endlings, another high level and innovating project," says Tatiana Costa, director of Gloob and preschool network Gloobinho.
Set in the near future, Endlings is a sci-fi action adventure series for families that sees the fantastical face off against the seemingly unremarkable. Gloob joins nine international broadcast partners including Hulu and Universal Kids in the US, CBC and SRC in Canada, CBBC in the UK, NDR in Germany, ABC in Australia, SVT in Sweden, and NRK in Norway.
"Gloob has been a wonderful partner in Brazil on some our other series, including Annedroids and Odd Squad. We are thrilled to have them join the launch of this groundbreaking new series, and look forward to introducing Endlings to kids and families across Brazil." says Kate Sanagan, Sinking Ship Head of Sales and Distribution for the Americas.
Sinking Ship Entertainment will be showcasing the series at MIPCOM next month, with the first episode screening at MIPCOM Junior. The first season of 12 X 22' will be available for international broadcasters in 2020.
-30-
For further information:
Amanda Fruci, Head of Communications
416.533.5172 Ext. 2258,
About Sinking Ship Entertainment
Sinking Ship Entertainment is an award-winning production, distribution and interactive company specializing in family and kids' live action and CGI blended content. In 2019 they set their sights on growth and launched a new animation series division. Since opening its doors in 2004, Sinking Ship has produced over 500 hours of content, and through their globally recognized in-house distribution division, has sold to over 200 countries internationally. The company has rapidly earned a global reputation for high quality, groundbreaking original series and companion interactive experiences. Overall, Sinking Ship has won 17 Daytime Emmy® Awards and a variety of other international awards including Canadian Screen Awards, Youth Media Alliance Awards, Fan Chile Awards, Parents Choice Awards, the Shaw Rocket Prize, and the Prix Jeunesse International. In addition to production, Sinking Ship operates a cutting edge VFX and Interactive Studio, creating multi-platform digital experiences and interactive content for audiences around the world. The Toronto-based company is home to over 175 shipmates.
Come Aboard and Join the Conversation:
Facebook: @sinkingshipentertainment @dinodantv @endlingstv
Instagram:@sinkingshipent @dinodanatv @endlingstv
Twitter: @SinkingShipEnt
About Gloob
Gloob is the first and biggest national channel for Kids in Brazil, currently achieving 3rd place in a competitive market with valuable international players present for over 20 years. Operated by Globosat, on of Brazil's biggest audiovisual content provider, Gloob also belongs to Globo Group, the most relevant entertainment company in Latin America and market leader in Brazil. The channel was launched in 2012 and has a constant and fast-paced evolution, achieving notorious ratings among kids from 4 to 11 years old. With big national hits such as Blue Building Detectives and SOS Fairy Manu, Gloob produces live-action series and animations with outstanding quality in original content production for original content production for all medias and platforms. Its shows have been nominated to recognizable awards such as Prix Jeunesse, BANFF and the International Emmy Kids Awards.