Nov 30, 2020
Sinking Ship Entertainment has concluded new deals in the region for its hit property DINO DANA.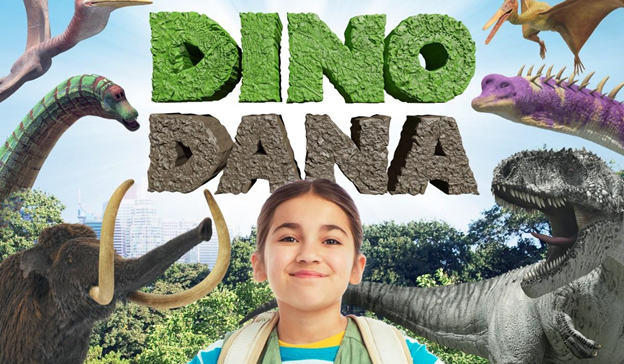 FOR IMMEDIATE RELEASE
Toronto - November 30, 2020
On the strength of a stellar showing on Nat Geo Kids in Latin America, Sinking Ship Entertainment is thrilled to announce new deals for its dinosaur adventure property DINO DANA.
Nat Geo Kids has acquired the third season of the series and renewed seasons one and two for its feeds across Latin America. In addition, the feature length film DINO DANA THE MOVIE was licensed to Nat Geo Kids and will premier in Latin America including on Disney+, in a deal brokered by the film's sales agent, Odin's Eye Entertainment. Both the series and feature film were produced by Sinking Ship Entertainment in association with Amazon Prime in the US and TVOKids in Canada.
The Nat Geo Kids deals follow the recent successful transactional release of the feature length film in North America with Cineplex in Canada and iTunes in the US.
The Latin American deals also follow an impressive international showing for the brand including a Daytime Emmy award for Outstanding Performer in Children's Program and most recently sales in the Middle East, East Europe, Turkey, Hong Kong and Australia.
The Dino Dana consumer product line also continues to grow across the Americas. Its publishing program recently expanded to a second Dino Dana: Dino Field Guide, due to be released later this year. The book features colorful illustrations and fascinating science facts and the first volume has already hit #1 on Amazon in a few categories. Additionally, as recently announced, Safari Ltd. is Dana's most recent consumer product partner, with dinosaur figures launching in late November.
"We have been thrilled by the enthusiastic response to Dino Dana across Latin America", says Kate Sanagan, Head of Sales and Distribution. "Her love of dinosaur adventures has resonated with buyers and consumers the world over, from the television, to a movie, books, and now a toy line. We are grateful to Nat Geo Kids for helping us to bring Dana into kids' homes and lives."
###
About Odin's Eye Entertainment
Established in 2006, Odin's Eye Entertainment (OEE) is a vertically integrated Production, Distribution and International Sales Agency that specializes in working with both emerging and established filmmakers across a wide variety of genres and mediums. Commencing in 2012, sister company, Odin's Eye Animation (OEA) develops and sources original and existing IP for the co-production of theatrical quality animation content for international sale and distribution.
About Sinking Ship Entertainment
Sinking Ship Entertainment is an award-winning production, distribution and interactive company specializing in family and kids' live action and CGI blended content. Since opening its doors in 2004, Sinking Ship has produced over 500 hours of content, and through their globally recognized in-house distribution division, has sold to over 200 countries internationally. The company has rapidly earned a global reputation for high quality, groundbreaking original series and companion interactive experiences. Overall, Sinking Ship has won 21 Daytime Emmy® Awards and a variety of other international awards including Canadian Screen Awards, Youth Media Alliance Awards, Fan Chile Awards, Parents Choice Awards, the Shaw Rocket Prize, and the Prix Jeunesse International. In addition to production, Sinking Ship operates a cutting edge VFX and Interactive Studio, creating multi-platform digital experiences and interactive content for audiences around the world. The Toronto-based company is home to over 175 shipmates.
For more information please contact Sarah Tung at sarahtung@sinkingship.ca

1179 King Street West, Suite 302, Toronto, ON M6K 3C5, Canada