Press Release
Jun 5, 2019
Sinking Ship Entertainment Inks Deal with Universal Kids for Amazon Prime Series Just Add Magic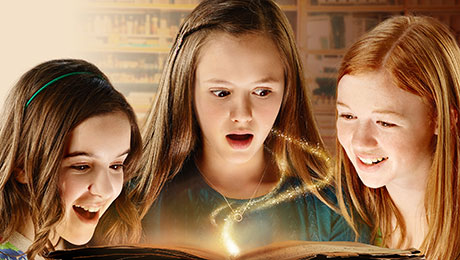 Industry Powerhouse Tanya Green Joins the Team as Head of Animated Series
(TORONTO, Canada- June 5, 2019) Sinking Ship Entertainment (SSE) has inked a deal with Universal Kids for the top-rated Amazon Prime series Just Add Magic. Universal Kids has taken second window in the United States with season 1 and 2 of the series, with the option to take seasons 3 and 4 starting February 2020. The show's first season will launch on Universal Kids on June 9, 2019 at 7:30 pm.
The Amazon-original live-action series is based on Cindy Callaghan's book of the same name, and follows the story of three best friends Kelly, Darbie and Hannah as they uncover a cookbook containing magical recipes. Aimed at kids 6 to 11 and families, Just Add Magic has delighted fans and proven its popularity as one of the most streamed Amazon Kids Originals on the service
Sinking Ship Entertainment recently announced the acquisition of Just Add Magic for international distribution, and the show's sale to English and French Canada, and pan-Latin America. DHX and Yoopa in Canada and Discovery Kids Latin America will all begin rolling out the popular series this Spring and early Summer. Just Add Magic currently airs on Amazon Prime Internationally.
"We are thrilled to land Just Add Magic with Universal Kids in the United States, and we look forward to introducing Kelly, Darbie and Hannah to more American fans." says Kate Sanagan, Sinking Ship Head of Sales and Distribution for the Americas.
Sinking Ship Entertainment continues to sell second window television rights for the series for worldwide distribution. Currently 39 half hour episodes are available, with another 22 episodes available in early 2020.
-30-
For further information:
Amanda Fruci, Head of Communications
416.533.5172 Ext. 2258,
About Sinking Ship Entertainment
Sinking Ship Entertainment is an award-winning production, distribution and interactive company specializing in family and kids' live action and CGI blended content. In 2019 they set their sights on growth and launched a new animation series division. Since opening its doors in 2004, Sinking Ship has produced over 500 hours of content, and through their globally recognized in-house distribution division, has sold to over 200 countries internationally. The company has rapidly earned a global reputation for high quality, groundbreaking original series and companion interactive experiences. Overall, Sinking Ship has won 17 Daytime Emmy® Awards and a variety of other international awards including Canadian Screen Awards, Youth Media Alliance Awards, Fan Chile Awards, Parents Choice Awards, the Shaw Rocket Prize, and the Prix Jeunesse International. In addition to production, Sinking Ship operates a cutting edge VFX and Interactive Studio, creating multi-platform digital experiences and interactive content for audiences around the world. The Toronto-based company is home to over 175 shipmates.
Come Aboard and Join the Conversation:
Facebook: @sinkingshipentertainment @dinodantv @endlingstv
Instagram:@sinkingshipent @dinodanatv @endlingstv
Twitter: @SinkingShipEnt