Jan 20, 2020
Sinking Ship Entertainment Inks International Pan-Territory Deal with Nickelodeon For Just Add Magic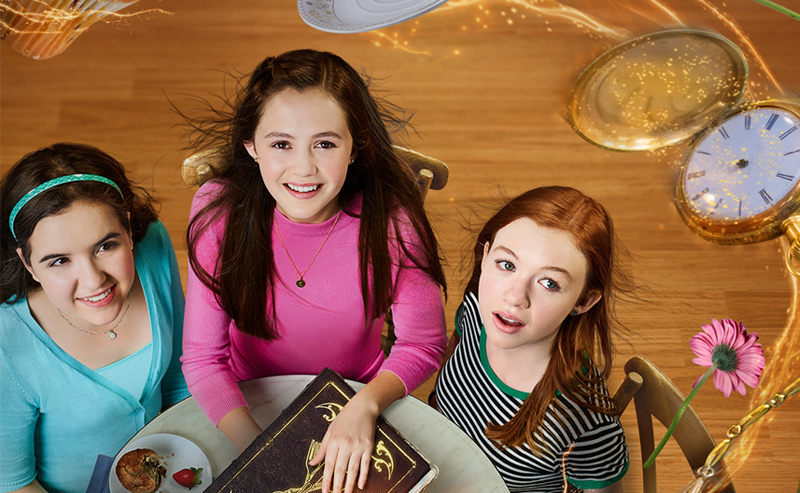 TORONTO, Canada
January 20, 2020
Sinking Ship Entertainment (SSE) is thrilled to announce that Amazon Prime's hit series JUST ADD MAGIC has been sold to Nickelodeon for a substantial international pan-territory deal. The kids' live-action 6 –11 serialized mystery series is based on the popular Cindy Callaghan book of the same name. Produced by Amazon Prime and distributed by Sinking Ship Entertainment worldwide, the series follows the adventures of Kelly Quinn and her two best friends, Darbie and Hannah, after they discover a recipe book full of magic recipes. Nickelodeon has picked up the pay tv rights to the series in an international pan-territory deal.
"We are happy to be able to introduce the enchanting stories of friendship, family and adventure in JUST ADD MAGIC to Nickelodeon International audiences on a pan territory basis" says Layla Lewis, SVP of Nickelodeon's global acquisitions and partnerships.
Sinking Ship's Marilyn Kynaston notes "We're thrilled that JUST ADD MAGIC has found such an ideal linear home with Nickelodeon International. More kids will have the chance to experience the magic of this series!"
There are currently three seasons comprising 50 X 22' episodes with a spin-off season entitled JUST ADD MAGIC: MYSTERY CITY launching in early 2020 on Amazon (and later on Nickelodeon).
-30-
About Sinking Ship Entertainment
Sinking Ship Entertainment is an award-winning production, distribution and interactive company specializing in family and kids' live action and CGI blended content. In 2019 they set their sights on growth and launched a new animation series division. Since opening its doors in 2004, Sinking Ship has produced over 500 hours of content, and through their globally recognized in-house distribution division, has sold to over 200 countries internationally. The company has rapidly earned a global reputation for high quality, groundbreaking original series and companion interactive experiences. Overall, Sinking Ship has won 17 Daytime Emmy® Awards and a variety of other international awards including Canadian Screen Awards, Youth Media Alliance Awards, Fan Chile Awards, Parents Choice Awards, the Shaw Rocket Prize, and the Prix Jeunesse International. In addition to production, Sinking Ship operates a cutting edge VFX and Interactive Studio, creating multi-platform digital experiences and interactive content for audiences around the world. The Toronto-based company is home to over 175 shipmates.
About Nickelodeon
Nickelodeon, now in its 40th year, is the number-one entertainment brand for kids. It has built a diverse, global business by putting kids first in everything it does. The brand includes television programming and production in the United States and around the world, plus consumer products, digital, location based experiences, publishing and feature films. Nickelodeon is one of the most globally recognized and widely distributed multimedia entertainment brands for kids and family, available in more than 500 million households across 170+ countries and territories, via more than 100+ locally programmed channels and branded blocks. Outside of the United States, Nickelodeon is part of ViacomCBS Networks International, a division of ViacomCBS Inc. (Nasdaq: VIACA, VIAC). For more information or artwork, visit http://www.nickpress.com. Nickelodeon and all related titles, characters and logos are trademarks of ViacomCBS Inc.
For further info, please contact Kate Sanagan
416-533-8172 ext 2242