Press Release
Apr 30, 2020
Sinking Ship Entertainment launches "HOME4SCHOOL" with Shaw Rocket Fund and TVOKids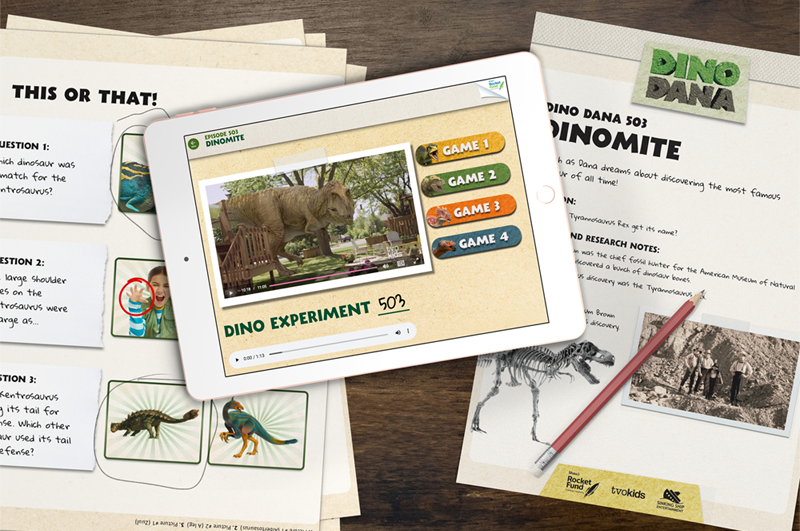 TORONTO – April 30, 2020
Sinking Ship Entertainment announced today the launch of a new learning-at-home experience for kids in partnership with TVOkids and the Shaw Rocket Fund. With the aim to address the need for more educational materials for children during the unprecedented COVID-19 quarantine, Home4School launches on tvokids.com on May 4th and will provide companion curricular experiences for some of Sinking Ship's biggest shows on TVOkids: Annedroids, Dino Dana, and Odd Squad. Each show guide will begin with an overall introduction followed by an episode-by-episode play list and will include curriculum-based games and activities.
"Huge thanks to the Shaw Rocket Fund and TVOkids for appreciating the need to support parents looking for new ways to educate and entertain their kids," says J.J. Johnson, partner at Sinking Ship Entertainment. "Home4School offers kids the opportunity to dig deeper into their favourite educational shows with a slate of curriculum-based activities while at the same time, offering parents a well-deserved break."
"During this unprecedented time, the Shaw Rocket Fund recognizes the importance of supporting both community, and industry. We are delighted to be working with Sinking Ship and TVOKids in order to bring Home4School to Canada's parents and children," said Agnes Augustin, President and CEO of the Shaw Rocket Fund. "This educational initiative represents Sinking Ship's dedication to their audiences, and we are proud to be fuelling their creativity."
"TVOkids is thrilled to partner with our friends at Sinking Ship Entertainment and the Shaw Rocket Fund to help support learning at home during COVID-19," says Marney Malabar, TVO Director, Kids TV. "Odd Squad, Dino Dana and Annedroids are educational programs our audience loves to watch. Home4School adds a fun new way for kids to interact with them, and reinforces the connection between the programs and the Ontario curriculum."

###
About Sinking Ship Entertainment Inc.
Sinking Ship Entertainment is an award-winning production, distribution and interactive company specializing in family and kids' live action and CGI blended content. Since opening its doors in 2004, Sinking Ship has produced over 500 hours of content, and through their globally recognized in-house distribution division, has sold to over 200 countries internationally. In 2019 they set their sights on growth and launched a new animation series division. The company has rapidly earned a global reputation for high quality, ground-breaking original series and companion interactive experiences. Overall, Sinking Ship has won 17 Daytime Emmy® Awards and a variety of other international awards including Canadian Screen Awards, Youth Media Alliance Awards, Fan Chile Awards, Parents Choice Awards, the Shaw Rocket Prize, and the Prix Jeunesse International. In addition to production, Sinking Ship operates a cutting edge VFX and Interactive Studio, creating multi-platform digital experiences and interactive content for audiences around the world. The Toronto-based company is home to over 175 shipmates.
About Shaw Rocket Fund
The Shaw Rocket Fund is a vital partner of the Canadian children's media sector in offering children robust world-leading content on all platforms. The Rocket Fund invests in and supports Canadian-made media that reflects Canadian values and diversity, and most of all respects and speaks to children, while positively showcasing Canadian leadership on the world stage. By working with producers, regulators, and government, the Shaw Rocket Fund aims to make quality content for kids a global priority. Since its inception, the Shaw Rocket Fund has invested over $234 million in 934 Canadian media content for children, family, and youth audiences worldwide. Contributors to the Fund are Shaw Communications and Shaw Direct. To learn more about the Shaw Rocket Fund, go to rocketfund.ca.
About TVO
Since 1970, TVO has existed to ignite the potential in everyone through the power of learning. Through impactful digital education products, in-depth current affairs, thought-provoking TVO Original documentaries, and award-winning TVOkids content, we prepare Ontarians for success in school and life. As we mark our 50th year, TVO's ongoing evolution as a modern digital learning and media organization prepares us to serve Ontarians for generations to come. TVO is funded primarily by the Province of Ontario, and is a registered charity supported by thousands of sponsors and donors. For more information, visit tvo.org or tvokids.com.


For more information please contact Kate Sanagan at kate@sinkingship.ca