Sinking Ship Entertainment Releases Dino Dana Seasons 1&2 on iTunes and Google Play
Jul 6, 2021
Sinking Ship Entertainment Releases Dino Dana Seasons 1&2 on iTunes and Google Play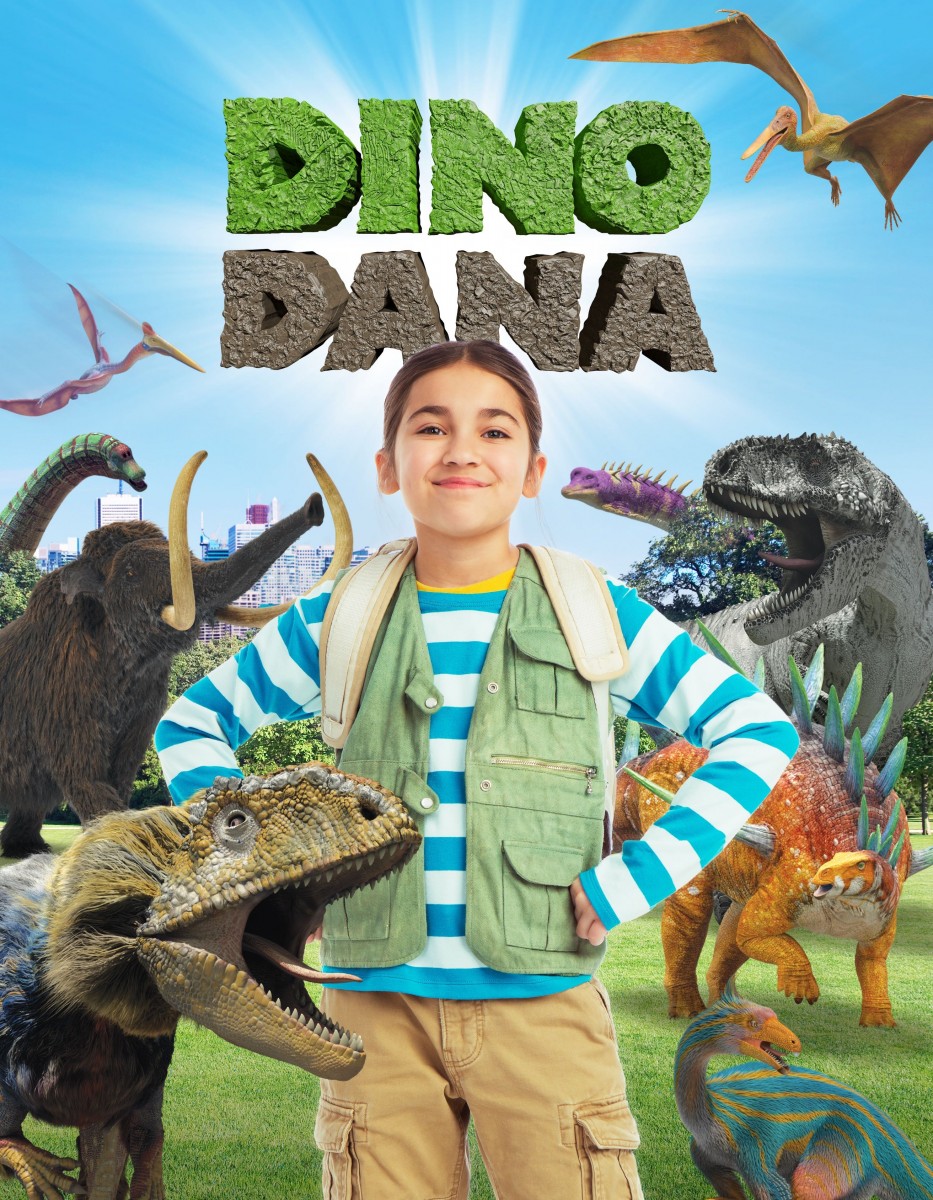 Multi-Award-Winning STEM Series Now Available For Purchase
Toronto, CAN, July 6, 2021 – Seasons 1&2 of Dino Dana - the multi-award-winning series from Sinking Ship Entertainment (Odd Squad, Endlings) - is now available for purchase on iTunes and Google Play.
Dino Dana stars Emmy-winning actress Michela Luci as 10-year-old "paleontologist in training" Dana, who (like Dan and Trek before her) eats, sleeps and breathes dinos. Armed with a big imagination, a special backpack made by her Dad and Trek's Dino Field Guide, Dana imagines dinosaurs into the real world and embarks on epic encounters with the help of her sister, Saara, and friends. When Dana transforms her backpack, the dinosaurs think she's one of them – allowing her to get closer to the action than any of her predecessors! With new prehistoric creatures, Dino Dana continues the Emmy award winning tradition of imagining the awesomeness of the past into an adventure in the present.
For her title role as Dana, Luci earned a 2019 Daytime Emmy Award for Best Performer in a Children's Program. In addition, Dino Dana won a Daytime Emmy for Outstanding Preschool Children's Series (2019) and Parents' Choice Gold Award (2019). The series was also named a Common Sense Media Official Selection for Family Viewing (2017).
The first two seasons of the beloved show (13 episodes/season) are now available to download for $19.99 per season, or $2.99 per episode on iTunes and $1.99 per episode on Google Play.
Dino Dana is created and executive produced by Sinking Ship Entertainment founding partner, J.J. Johnson.
About Sinking Ship Entertainment
Sinking Ship Entertainment is a multi-award-winning production, distribution, and interactive company specializing in family and kids' live-action and CGI-blended content. Since its founding in 2004 by J.J. Johnson, Blair Powers and Matt Bishop, Sinking Ship has produced more than 17 series and 500 hours of content, distributed to more than 200 countries around the world. With a global reputation for quality, groundbreaking original series and companion interactive experiences, Sinking Ship has won 21 Daytime Emmy® Awards, including Outstanding Pre-School Children's Series for Dino Dan: Trek's Adventures (Nickelodeon), Outstanding Children's or Family Viewing for Odd Squad (PBS KIDS), Outstanding Children's or Family Viewing for Ghostwriter (Apple TV+) and Outstanding Education or Informational Series for Giver (ION). International awards include a 2019 BAFTA for Odd Squad and multiple Canadian Screen Awards, Youth Media Alliance Awards, Parents Choice Awards, the Shaw Rocket Prize, and the Prix Jeunesse International. In 2020, Sinking Ship was also named as the number one Kids' Entertainment Production Company on Kidscreen's Hot50 list. Among the series currently in production are the third season of the worldwide success, Odd Squad, as well as the upcoming new series, Jane, inspired by and co-produced alongside renowned primatologist Jane Goodall. Currently in pre-production is the series Builder Brothers Dream Factory, in partnership with Scott Brothers Entertainment. In addition to its critically-acclaimed productions, Sinking Ship operates a cutting-edge VFX and Interactive Studio, creating multi-platform digital experiences and interactive content for audiences around the globe. For more information, visit the Sinking Ship website, Facebook, Twitter, and Instagram.
# # #
Press contacts:
Grand Communications (For Sinking Ship Entertainment)
Alison Grand
212-584-1133;
Alison@grandcommunications.com
Laura Liebeck
845-440-7974;