Sinking Ship Entertainment Releases 'Odd Squad' Season 1 on iTunes
Jul 15, 2021
Sinking Ship Entertainment Releases 'Odd Squad' Season 1 on iTunes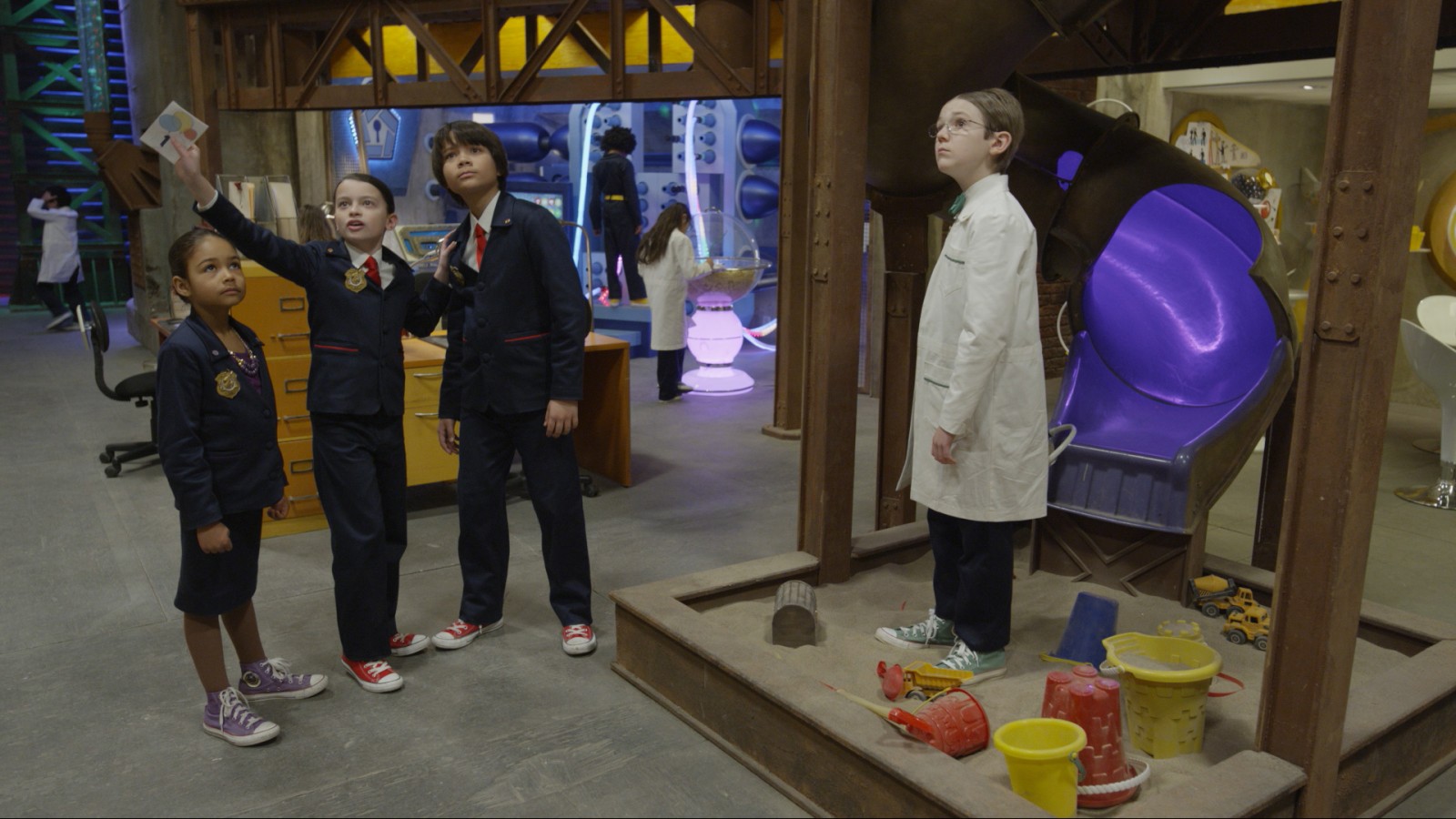 Multi-Emmy-Winning Comedy Series Now Available to Download for Fans
Toronto, CAN, July 15, 2021 – Things are about to get ODD…! Leading global kids' entertainment company Sinking Ship Entertainment (Dino Dana, Endlings) has just released Season 1 of Odd Squad, the much-loved BAFTA Award-winning live-action comedy series co-produced by Fred Rogers Productions, on iTunes. The 10-episode first season is now available to download for £24.90. Odd Squad airs on the CBBC in the UK.
Designed to help kids 5-8 build math, problem-solving, and collaboration skills, Odd Squad centers on four intrepid young agents who are part of Odd Squad, an agency whose mission is to investigate strange happenings. Every episode features a math concept that the Odd Squad uses to set things right. To crack each case, the agents use deductive reasoning and logical thinking—along with teamwork and a hefty dose of humour.
Odd Squad won a BAFTA in the International Live Action category and was named one of the best kids' shows of the decade by Common Sense Media (2019), among numerous other awards and honors. It has also earned 14 prestigious Daytime Emmy Awards including for Outstanding Children's or Family Viewing Series (2018) and Outstanding Writing for a Children's, Preschool Children's, Family Viewing Series (2018).
Odd Squad was created by Tim McKeon (Foster's Home for Imaginary Friends, Adventure Time, The Electric Company) and Adam Peltzman (The Electric Company, The Backyardigans, Wallykazam!) and produced by Sinking Ship Entertainment and Fred Rogers Productions. For more information on Odd Squad, visit https://www.bbc.co.uk/cbbc/shows/odd-squad and follow Odd Squad on Facebook and Twitter.
About Sinking Ship Entertainment
Named as the number one Kids' Entertainment Production Company on Kidscreen's Hot50 list in 2020, Sinking Ship Entertainment is a globally renowned and industry leading production, distribution, VFX and Interactive studio specializing in children's and family content. Since its founding in 2004, Sinking Ship has won 24 Daytime Emmy® awards, including series wins for Ghostwriter (Apple TV+), Dino Dan: Trek's Adventures (Nickelodeon), Odd Squad (PBS Kids), and Giver (ION) and was named the Most Innovative Producer at the 2021 Banff World Media Festival. With a global reputation for quality, ground breaking original series and companion interactive experiences, Sinking Ship has produced more than 17 series and distributed to more than 200 countries across the world. Upcoming projects include the third season of the worldwide success, Odd Squad, Builder Brothers Dream Factory, in partnership with Scott Brothers Entertainment and the highly anticipated series, Jane, co-produced with the Jane Goodall Institute. For more information, visit our website, Facebook, Twitter and Instagram.
# # #
Press contacts:
Grand Communications
Alison Grand
212-584-1133;
Alison@grandcommunications.com
Laura Liebeck
845-440-7974;