Jul 27, 2020
Sinking Ship Entertainment Wins Four Daytime Emmys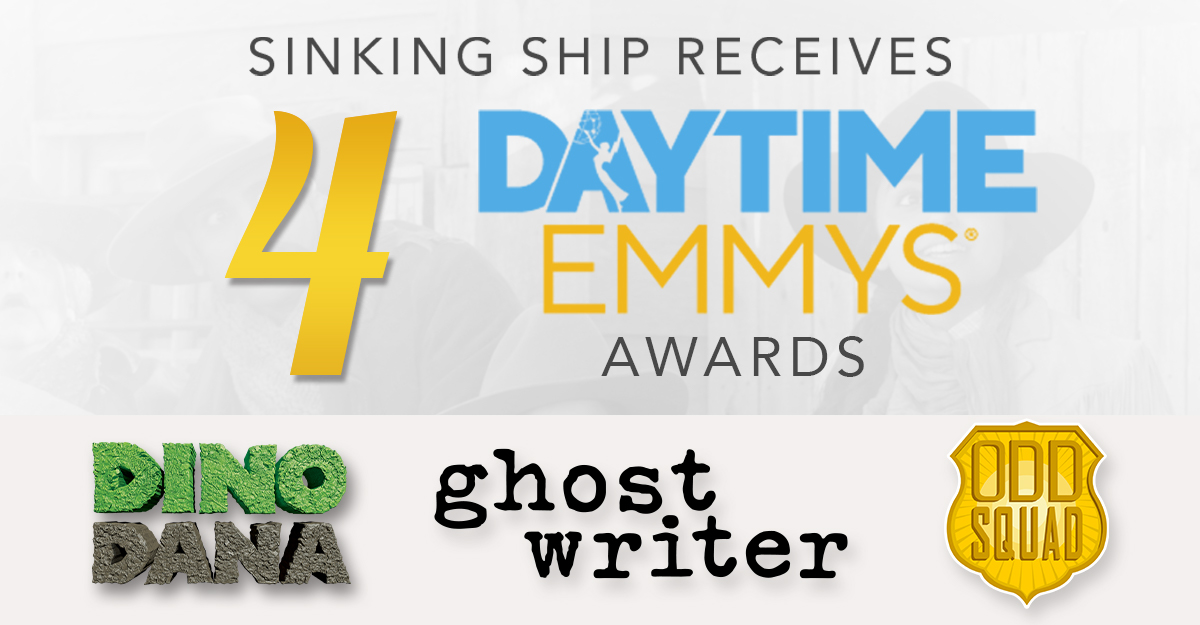 Awards Include Outstanding Children's or Family Viewing Program for Apple TV+'s Ghostwriter
July 27, 2020
Toronto, Canada
Sinking Ship Entertainment took home four new Daytime Emmys last night, including Outstanding Children's or Family Viewing Program for Ghostwriter. The Sesame Workshop/Sinking Ship Entertainment series debuted on Apple TV+ in November 2019 and earlier this year won a 2020 Parents' Choice Gold Award. Sinking Ship also snagged two wins for preschool adventure series Dino Dana (Amazon Prime Video), with Outstanding Special Effects Costume, Makeup and Hairstyling, while Bill Cobbs won Outstanding Limited Performance in a Daytime Program. Additionally, PBS' math comedy series Odd Squad took home Outstanding Sound Editing for a Live Action Program.
These recent Emmy wins bring the company's total to 21, and mark the fourth time the Canadian company has landed the coveted Outstanding Program spot (Dino Dan: Trek's Adventures won Outstanding Pre-School Children's Series in 2015, Giver won Outstanding Education or Informational Series in 2018, and Odd Squad won Outstanding Children's Series in 2019).
###
Sinking Ship Entertainment is an award-winning production, distribution and interactive company specializing in family and kids' live action and CGI blended content. Since opening its doors in 2004, Sinking Ship has produced over 500 hours of content, and through their globally recognized in-house distribution division, has sold to over 200 countries internationally. The company has rapidly earned a global reputation for high quality, groundbreaking original series and companion interactive experiences. Overall, Sinking Ship has won 21 Daytime Emmy® Awards and a variety of other international awards including Canadian Screen Awards, Youth Media Alliance Awards, Fan Chile Awards, Parents Choice Awards, the Shaw Rocket Prize, and the Prix Jeunesse International. In addition to production, Sinking Ship operates a cutting edge VFX and Interactive Studio, creating multi-platform digital experiences and interactive content for audiences around the world. The Toronto-based company is home to over 175 shipmates.
For more information please contact Kate Sanagan at katesanagan@sinkingship.ca