Press Release
Jul 7, 2020
Sinking Ship Entertainment Sets New Course For Dino Dana The Movie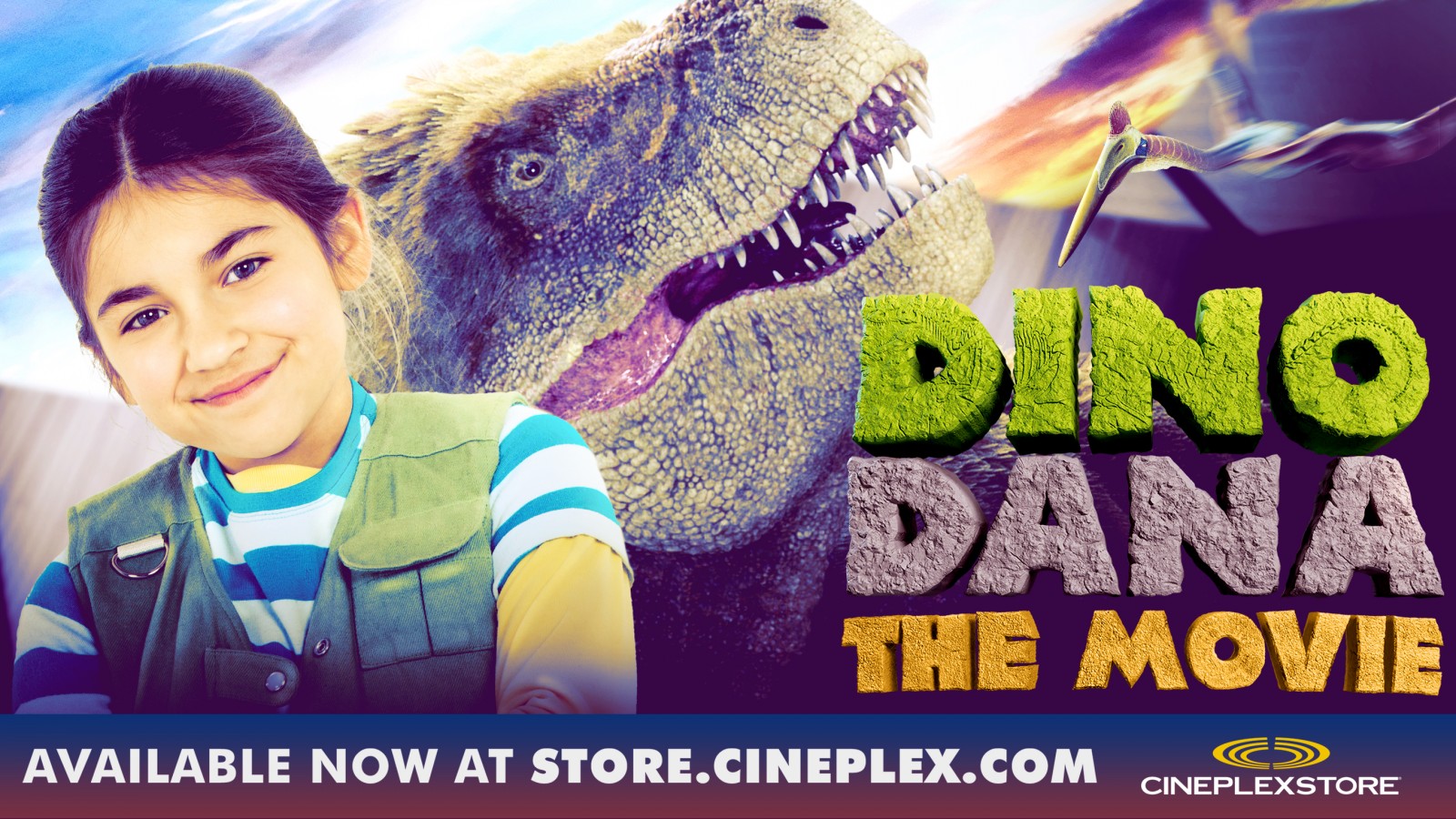 Cineplex Store Launches Transactional Release in Canada
July 7, 2020
Toronto, Canada
Sinking Ship Entertainment is pleased to announce the transactional release of DINO DANA THE MOVIE on Cineplex Store in Canada as of Monday, July 6. The highly anticipated theatrical release of the kids' dinosaur movie was put on pause earlier this March at the beginning of the COVID-19 pandemic. As the media company's theatrical release partner in Canada, Cineplex is now bringing the film to families and dinosaur fans across the country via a premium transactional release.
The Cineplex Storelaunchis the first step in Sinking Ship's overall pivot on the release of DINO DANA THE MOVIE as the company plans a similar transactional release strategy in the US for the feature film. The media company has also needed to consider its museum theatre strategy, as that industry waits for their institutions to open again. In response, Sinking Ship has created a suite of new digital assets to provide to museums' visitors at home, to ensure that Dino Dana stays fresh in the minds of families and young paleontologists-in-training. A new Dino Dana podcast series and video interview series with paleontologists hosted by outreach partner National Girls Collaborative Project are among the new assets currently being created in-house.
"We needed to be creative and resourceful when it came to plotting out an altered theatrical release strategy for the film, and our young dino fans are always top of mind," says Kate Sanagan, Co-Head of Sales and Distribution at Sinking Ship. "A transactional release of the feature means kids and families will still get the Dino Dana experience, and we are so thrilled to be working with the Cineplex team to make that happen here in Canada. And as for our museum partners, we wanted to be able to provide new content that they could use immediately while waiting to re-open."
TVOkids', television home of the Dino Dana brand, will also be launching the movie across all of their channels over Labour Day weekend. In addition, the movie's international sales agent for the feature film, Odin's Eye Entertainment, has been busy lining up worldwide deals, including with New Select Co. Ltd for Japan, Factoris France for France, Yejilim Entertainment for South Korea, and Alarm Pictures Ltd. for the U.K.
Cineplex Store is Canada's one-stop shop for digital rentals and purchases. Cineplex Store extends the movie-going experience into guests' homes – allowing them to purchase movies online or using their mobile device. Cineplex Store offers thousands of digital movies for download or purchase including the latest releases, box office hits and Hollywood classics.
###
About Cineplex
Cineplex (TSX:CGX) is a top-tier Canadian brand that operates in the Film Entertainment and Content, Amusement and Leisure, and Media sectors. A leading entertainment and media company, Cineplex welcomes over 70 million guests annually through its circuit of theatres and location based entertainment venues across the country. In addition to being Canada's largest and most innovative film exhibitor, Cineplex also operates successful businesses in digital commerce (CineplexStore.com), food service, alternative programming (Cineplex Events), cinema media (Cineplex Media), digital place-based media (Cineplex Digital Media) and amusement solutions (Player One Amusement Group). Additionally, Cineplex operates location based entertainment complexes specially designed for teens and families (Playdium) as well as Canada's favourite destination for 'Eats & Entertainment' (The Rec Room). Cineplex is a joint venture partner in SCENE, Canada's largest entertainment loyalty program.
About Sinking Ship Entertainment
Sinking Ship Entertainment is an award-winning production, distribution and interactive company specializing in family and kids' live action and CGI blended content. Since opening its doors in 2004, Sinking Ship has produced over 500 hours of content, and through their globally recognized in-house distribution division, has sold to over 200 countries internationally. The company has rapidly earned a global reputation for high quality, ground-breaking original series and companion interactive experiences. Overall, Sinking Ship has won 17 Daytime Emmy® Awards and a variety of other international awards including Canadian Screen Awards, Youth Media Alliance Awards, Fan Chile Awards, Parents Choice Awards, the Shaw Rocket Prize, and the Prix Jeunesse International. In addition to production, Sinking Ship operates a cutting edge VFX and Interactive Studio, creating multi-platform digital experiences and interactive content for audiences around the world. The Toronto-based company is home to over 175 shipmates.
For more information please contact Kate Sanagan at kate@sinkingship.ca